Can a man really "buy" respect for a dollar?!
Of course not.
But imagine for a moment there actually was one simple secret that, once I shared it with you, would give you exactly what you need to quickly become the man that
automatically
gets respect and admiration...
✔ from attractive women,
✔ from other men,
✔ and most of all-- from the guy who looks at you in the mirror every day
(the guy who knows ALL of your secrets, and who knows you could be doing better)...
Now imagine that the guy who had this secret to real respect was so damn eager to just plain
give it away
, that he'd be willing to share it with you for only a buck...
In exchange for this tiny, "token investment", I'm going to share with you the greatest gift that I could ever give to another man.
It's the key to my secret vault, the magical secret to succeeding at the game of
"Manhood"
that didn't simply just allow me to live the LIFE that I had dreamed of...
✔ An amazing sex life filled with beautiful, affectionate, and wonderful women
✔ The pride of professional success and financial freedom
✔ Deep friendships with powerful, influential men, and leaders that I always admired
✔ My health and discipline on lockdown
✔ A life that honors my personal freedom: significant free time to travel, enjoy my passions, and gratefully savor lazy days with family and loved ones
...But
MUCH MORE THAN THAT
,
it allowed me to become the MAN that I had once dared to dream that I might one day become...
A man who I now see in the mirror, and who I love being. A man I truly respect.
I would like to have a chance to show how YOU can have that kind of life too.
And if it sounds like I'm bragging, please understand that I am not telling you these things to impress you, but rather in appreciation and gratitude for the mentors and other men who pulled me up to this life.
I could not have done it alone. Not even close.
So let me ask you a question...
If you've ever found yourself lost, frustrated, and
unsure of what to do with your life
... I can relate…
Like every man, I've had a life of ups and downs -- nobody, neither the luckiest or most cursed person you know, avoids both ups and downs in this life --
And the story of how I finally learned the secret to becoming the man who effortlessly owns the respect of women, my peers, and myself began (as you probably already guessed), at a real low point:
I was about to turn 40, I was still reeling from the humiliation and failure of a recent divorce, I had around $50 in my bank account, I was buried in credit card debt, I owed 2 months rent on the apartment in New York that I had just left (because I couldn't afford the rent), and the business that I had poured the last 2 years of my life into had just irrevocably collapsed into ashes around me.
I guess you could say I was
homeless
at the time -- I have a couple of friends who fought their way back to success after being forced to live in their car for a while at their low points -- but my story is less glamorous, and for me, more embarrassing:
I was "temporarily staying in my parent's guest room" while I sorted out my next move.
Reality: I was just a few months from my 40th birthday, and I had been forced to move back in with mommy.
This was NOT the way it was supposed to go.
I was a smart guy. I was a very good student in school... I wasn't voted "most likely to succeed," but the unapologetic truth is that everyone had very high expectations of me to be wildly successful, and to do something important with my life.
And now the REAL truth had been revealed. I had them all fooled all along. I was a loser. No wonder my wife had left me.
Even when things had been going well for me financially and romantically over the previous decade… the part of me that whispered coldly in my ear when I woke up in the middle of the night -- that part had known the truth all along.
I found myself obsessively thinking about guys that I went to highschool with, imagining how their lives had worked out-- how they were probably living in a nice house with a nice wife and kids, paying the bills, and putting money aside for the future, feeling loved, getting the respect and love they deserved from friends, coworkers, family, and a loving woman.
And I remember looking in the mirror and asking,
if other men can build the life they want, why can't I? Why am I the only loser in this game?
In many ways I had a lot of luck, and lot of success in my life before I ended up a 40-year-old loser, staring at myself in the mirror in my parents' bathroom.
But even when I had a win, or got laid, or whatever,
I still felt like a fraud inside
.
I still had a voice inside of me that knew that I was hiding, faking it, and was afraid that other people would discover that I was just a frightened little boy, pretending to be "one of the men" who had his shit together.
Here's an important truth about men:
A man is not defined by his successes in life, but by who he becomes when he gets knocked to the floor.
For me, on that particular knock-down, I got incredibly lucky, because that was the moment I realized that I couldn't do it alone --
that I needed to ask for help.
I used to ridicule the idea of having a "mentor" as a weakness. I guess I was so insecure, that I was afraid that "needing help" from another man, would show the world that I was "less than" that other man-- and since I secretly believed that anyway, it was impossible for me to ask for the help I needed.
What great mentors know is that only men who have the courage to vulnerably
ask
for help, are men who are ever any good at
giving
help to others. And my mentors taught me how to stop hiding from insecurities, and face them instead.
That is how humiliation turns to courage, and it's the kind of courage that all men respect.
Many heroes and wise men have talked about the magic of "hitting rock-bottom". For me it was the place that made me realize that I was weak, hiding, and pretending to be someone I wasn't in public in order to gain acceptance --
But to what end? What was I trying to protect by living a lie? The small life that I had?
The reason most men never figure this out on their own is because it seems so backwards:
Giving up my need to LOOK successful and like I had my shit together was what allowed me to
actually
get my shit together and have all of the personal, professional, and emotional success that I had wanted.
I don't have 37 millions dollars, I'm no social Jedi with 300 comments on every post I make on Facebook, and of course there are plenty of women that would still turn me down, but…
I do have a 7-figure business that I love, that fuels my passions and keeps my family secure; I have powerful friends that feel like family to me and always have my back, and I married a woman so ideal that I honestly thought she could only be real in my fantasies.
I have become exactly the man I daydreamed about becoming.
And
my simple secret was allowing other powerful men to mentor me
to greatness.
It involved LEARNING how to overcome my insecurities, how to love and respect the man that I already was when I was lying face down in the mud at rock-bottom, how to find my purpose, how to have productive conversations with my own self-critical voice instead of being ruled by it…
And then two amazing things happened:
1) I got all of the success and professional, social, and sexual respect that I could imagine. Suddenly other people were admiring me not for what I was worth or what I could do, BUT FOR WHO I WAS.
2) Seemingly out of nowhere, other men began approaching ME to mentor them on how I had become this new man.
I discovered the magic trick, I uncovered the secret formula, I knew how to create change in my life, and they wanted some of that magic.
Here's another big secret that can really help you out in finding your own mentors to get to YOUR next level in life, and it's worth writing down:
The best way to pay back a mentor is with your own success and happiness.
For me, seeing the men that I mentored step out of their shadows and into their own power, success, and happiness as men was so mind-blowing that I got hooked... ended up making my purpose, my career, and my business out of bringing these secrets to as many other men as possible.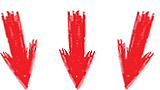 Here are 3 "Big Secrets" that you can use in your life RIGHT NOW to become the Man that you daydream of becoming: A man who loves the guy he sees in the mirror, and who gets the respect and admiration of others...